This is a Dutch-language ABC of Puppetry ('poppentheater-abc') with nearly five hundred entries. This section
contains an explanation of the terms, expressions, concepts, puppetry techniques, characteristic
puppet theatre figures and important people.

Aap
Bij de oud-Hollandse poppenkast deed soms een echte aap mee. Als 'lokkebroodje' voor het publiek zat hij voor de voorstelling op de speelplank. Hij had ook een rol in het spel: het verkopen van†trappen en oorvijgen aan Jan Klaassen.
Zie ook Hanuman en Koning Aap.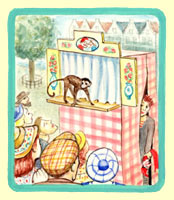 Illustratie uit: Poppenspe(e)lkwartet.
Auteurs: Hetty PaŽrl, Otto van der Mieden.
Impressum:†Oostelijk Kunstbedrijf, Vorchten (1991).
Stamboeknummer: 72.787.