This is a Dutch-language ABC of Puppetry ('poppentheater-abc') with nearly five hundred entries. This section
contains an explanation of the terms, expressions, concepts, puppetry techniques, characteristic
puppet theatre figures and important people.

Amar Singh Rathore
Een personage uit het marionettentheater van de Indiase deelstaat Rajasthan. Amar Singh Rathore is een krijgshaftige koning.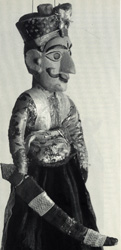 Illustratie uit: Verre vrienden van Jan Klaassen.
Auteur: Elisabeth den Otter.
Impressum: Koninklijk Instituut voor de Tropen, Amsterdam (1995).
Stamboeknummer: 74.335.