This is a Dutch-language ABC of Puppetry ('poppentheater-abc') with nearly five hundred entries. This section
contains an explanation of the terms, expressions, concepts, puppetry techniques, characteristic
puppet theatre figures and important people.

Dalang
Poppenspeler van het wayangspel en leider van het gamelanorkest dat achter hem zit. Hij beweegt de figuren, spreekt hun rollen, zingt en vertelt. De dalang zit met gekruiste benen achter het speelscherm, met het gezicht naar het publiek gericht en met zijn rug naar de gamelanspelers.
Zie ook Doepak nr. 98.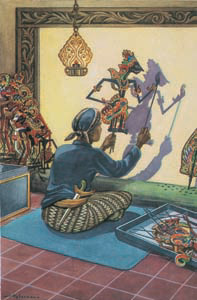 Illustratie: Wayang kulit (briefkaart).
Impressum: Poppenspe(e)lmuseum, Vorchten (2002).