This is a Dutch-language ABC of Puppetry ('poppentheater-abc') with nearly five hundred entries. This section
contains an explanation of the terms, expressions, concepts, puppetry techniques, characteristic
puppet theatre figures and important people.

Diorama
Een soort kijkdoos waarin een bepaalde scène te zien is. De voorstelling wordt in lagen achter elkaar opgebouwd. In het midden van elke laag wordt een opening uitgespaard, opdat de achterliggende afbeelding ook te zien is. Hierdoor ontstaat dieptewerking. Sommige diorama's zijn uitgegeven als een soort plooibaar boekje, in de vorm van een trekharmonica. Eenmaal uitgetrokken, laat het boekje door de eerste (theater) opening een landschap of tafereel zien. Een diorama wordt ook wel ingebouwd in een kijkkast.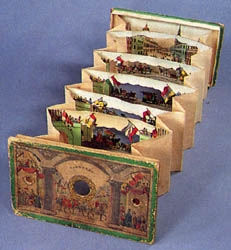 Illustratie uit: Peepshows: a visual history.
Auteur: Richard Balzer.
Impressum: Harry N. Abrams, New York (1998).
Stamboeknummer: 73.686.