This is a Dutch-language ABC of Puppetry ('poppentheater-abc') with nearly five hundred entries. This section
contains an explanation of the terms, expressions, concepts, puppetry techniques, characteristic
puppet theatre figures and important people.

Educatief poppenspel
Poppenspel als middel bij de opvoeding van kinderen (en volwassenen).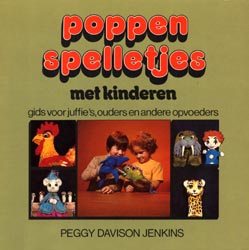 Illustratie uit: Poppenspelletjes met kinderen:
gids voor juffie's, ouders en andere opvoeders.
Auteur: Peggy Davison Jenkins.
Impressum: Elmar, Rijswijk (1982).
Stamboeknummer: 70.167.