This is a Dutch-language ABC of Puppetry ('poppentheater-abc') with nearly five hundred entries. This section
contains an explanation of the terms, expressions, concepts, puppetry techniques, characteristic
puppet theatre figures and important people.

Fronton
Driehoekige versiering boven gevels, deuren, ramen en kasten, meestal door lijsten omsloten. De bovenkant van de traditionele oud-Hollandse poppenkast is vaak voorzien van een dergelijk 'puntdakje'.
Zie ook Frontispies en Theater.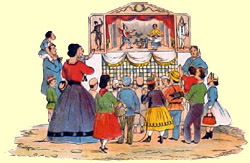 Illustratie: Fragment uit 'Uit het leven van Jan Klaassen' (centsprent). 
Impressum: Uitgeverij I. de Haan, Haarlem (1850=1890).
Inventarisnummer: 00128.