This is a Dutch-language ABC of Puppetry ('poppentheater-abc') with nearly five hundred entries. This section
contains an explanation of the terms, expressions, concepts, puppetry techniques, characteristic
puppet theatre figures and important people.

Handschaduwbeeld
Schaduwbeeld dat ontstaat door de hand(en) tussen een muur of (halftransparant) scherm en een lichtbron te houden. Door bepaalde standen van de vingers kunnen schaduwbeelden te voorschijn worden getoverd die bijvoorbeeld een zwaan, een duif, een hond, een konijntje of zelfs een mens voorstellen.
Zie ook Schimmenspel, Doepak nr. 161 en Pamflet nr.63.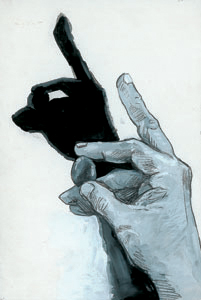 Illustratie: Schaduwbeeld van de paashaas,
gevormd door een hand en een eitje (briefkaart).
Illustrator: Waldemar Post, Amsterdam (1995).
Impressum: Poppenspe(e)lmuseum, Vorchten (2002).