This is a Dutch-language ABC of Puppetry ('poppentheater-abc') with nearly five hundred entries. This section
contains an explanation of the terms, expressions, concepts, puppetry techniques, characteristic
puppet theatre figures and important people.

Heerekrintjes
Krachtterm. Verbasterde vloek. Door volkspoppenkastspelers in de negentiende eeuw gebruikt wanneer zij bij chique families optraden en netjes moesten zijn in hun taalgebruik.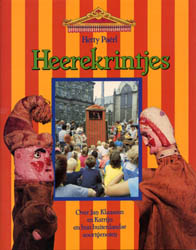 Illustratie uit: Heerekrintjes: over Jan Klaassen en Katrijn
en hun buitenlandse soortgenoten.
Auteur: Hetty Paërl.
Impressum: Gaade, Veenendaal (1987).
Stamboeknummer: 70.488.