This is a Dutch-language ABC of Puppetry ('poppentheater-abc') with nearly five hundred entries. This section
contains an explanation of the terms, expressions, concepts, puppetry techniques, characteristic
puppet theatre figures and important people.

Holodesk
Een moderne kijkkast die de toeschouwer een virtuele wereld voortovert. Deze wereld wordt opgeroepen met digitale technieken, projectie, video, spiegeleffecten en een driedimensionaal decor. Een poŽtische holodeskshow wordt gepresenteerd in het Poppenspe(e)lmuseum.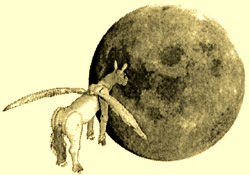 Illustrators: Dik Mus, Anke van Veen, Amsterdam (1998).