This is a Dutch-language ABC of Puppetry ('poppentheater-abc') with nearly five hundred entries. This section
contains an explanation of the terms, expressions, concepts, puppetry techniques, characteristic
puppet theatre figures and important people.

Hond
In het verleden waren er poppenspelers die bij hun voorstelling een gedresseerd dier lieten optreden. Het kreeg een rol als tegenspeler van de hoofdpop. Zo deed in de show van de Engelse†Mr Punch dikwijls een levende hond mee, Toby genaamd. Hij droeg een mooie, geplooide kraag om de hals. Ook in enkele andere Europese landen heeft de hond een rol in de volkspoppenkast, dan echter gespeeld door een pop. In de poppenkast met Pulcinella is de hond een gruwelijk monster met een grote klapbek, te vergelijken met de krokodil in het Jan Klaassen-spel.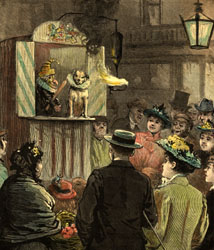 Illustratie: Mr Punch en Toby de hond.
Impressum: Groot-BrittanniŽ (18-?).