This is a Dutch-language ABC of Puppetry ('poppentheater-abc') with nearly five hundred entries. This section
contains an explanation of the terms, expressions, concepts, puppetry techniques, characteristic
puppet theatre figures and important people.

Judy
Echtgenote van†Mr Punch. Draagt net als haar nicht Katrijn een luifelmutsje. Ze is lelijk en vinnig. Dat laatste moet ze wel zijn, want Punch is een woesteling, die haar baby uit het raam gooit. Als zij hem daarvoor een aframmeling geeft met de stok, ontfutselt hij haar het wapen en slaat haar dood.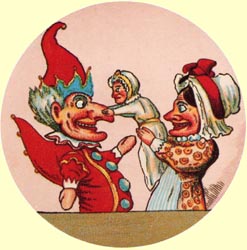 Illustratie:†Lantaarnplaatje met Mr Punch, Judy en de baby (briefkaart).
Impressum: Groot-BrittanniŽ (1987).