This is a Dutch-language ABC of Puppetry ('poppentheater-abc') with nearly five hundred entries. This section
contains an explanation of the terms, expressions, concepts, puppetry techniques, characteristic
puppet theatre figures and important people.

Karaghiozis
Een van de twee komische hoofdfiguren uit het traditionele Griekse schimmenspel. De andere is Khatziavatis. De Griekse schimmenspeltraditie is voortgekomen uit het Turkse Karagöz-theater. Karaghiozis heeft een bult, een grote neus en een kalende kop. De benen bungelen vrij aan het lijf. Eén arm is kort en kan niet bewegen, de andere is heel lang en heeft vele geledingen, soms wel acht. Als de situatie dat vereist, kan Karaghiozis een tegenstander met zijn lange arm enorme optaters verkopen.
Zie ook Tulp en Vliegtuig.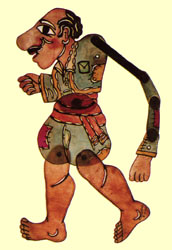 Illustratie uit: The bitter-sweet art:
Karaghiozis: the Greek shadow theater.
Auteur: Rom Gudas.
Impressum: Gnosis, Athens (1986).
Stamboeknummer: 73.452.