This is a Dutch-language ABC of Puppetry ('poppentheater-abc') with nearly five hundred entries. This section
contains an explanation of the terms, expressions, concepts, puppetry techniques, characteristic
puppet theatre figures and important people.

Kepyak
Bronzen plaatjes, hangen aan de kotak wayang, de wayangkist. Worden door een dalang (poppen- en schimmenspeler) met de rechtervoet bespeeld.
Zie ook Wayang.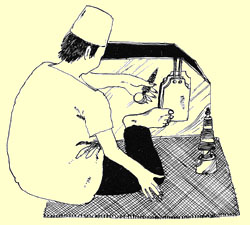 Illustratie uit: Wayang kulit: "Javaans poppenspel voor massa en elite".
Auteur: Rien Baartmans.
Impressum: Oostelijk Kunstbedrijf, Vorchten (1988).
Stamboeknummer: 72.318.