This is a Dutch-language ABC of Puppetry ('poppentheater-abc') with nearly five hundred entries. This section
contains an explanation of the terms, expressions, concepts, puppetry techniques, characteristic
puppet theatre figures and important people.

Lang-kortman
Trucpop, vaak een marionet. Is eerst kort, begint vervolgens te groeien; niet alleen de hals, maar ook armen en benen worden langer. In het oud-Hollandse marionettentheater kwam een dergelijke pop voor. Eenmaal gegroeid, boog hij voorover. Jan sprong op zijn rug om een ritje te maken.
Zie ook Langhals.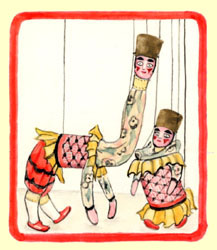 Illustratie uit: Poppenspe(e)lkwartet.
Auteurs: Hetty PaŽrl, Otto van der Mieden.
Impressum:†Oostelijk Kunstbedrijf, Vorchten (1991).
Stamboeknummer: 72.787.