This is a Dutch-language ABC of Puppetry ('poppentheater-abc') with nearly five hundred entries. This section
contains an explanation of the terms, expressions, concepts, puppetry techniques, characteristic
puppet theatre figures and important people.

Langhals
Trucpop, waarvan de kop op een lange stok zit die langzaam omhoog wordt geduwd, zodat de met een lap bedekte hals wordt uitgerekt. Werd gebruikt in het vroege Jan Klaassen-spel voor de Snikhals, die raadpensionaris Jan de Witt voorstelde. Later voor de Dood van Pierlala. Zie ook Lang-kortman.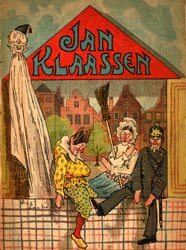 Illustratie uit: Jan Klaassen.
Impressum: J. Vlieger, Amsterdam (19-?).
Stamboeknummer: 71.848.