This is a Dutch-language ABC of Puppetry ('poppentheater-abc') with nearly five hundred entries. This section
contains an explanation of the terms, expressions, concepts, puppetry techniques, characteristic
puppet theatre figures and important people.

Mestre Salas
Belangrijk personage uit het stangpoppentheater, met name uit de Portugese provincie Alentejo. Mestre Salas fungeert als tussenpersoon tussen de poppen en het publiek.
Hij is groter dan de andere figuren, die overigens niet meer dan 20 tot 40 cm hoog zijn.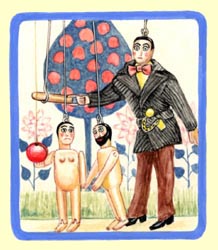 Illustratie uit: Poppenspe(e)lkwartet.
Auteurs: Hetty PaŽrl, Otto van der Mieden.
Impressum:†Oostelijk Kunstbedrijf, Vorchten (1991).
Stamboeknummer: 72.787.