This is a Dutch-language ABC of Puppetry ('poppentheater-abc') with nearly five hundred entries. This section
contains an explanation of the terms, expressions, concepts, puppetry techniques, characteristic
puppet theatre figures and important people.

Modern poppenspel
Het hedendaagse poppen- en figurentheater bestaat vaak uit mengvormen van toneel, mime, dans, poppen- en objecttheater, schimmenspel, film en projectie. Er wordt gebruikgemaakt van moderne technische middelen, ook van de computer. Het speelvlak kan het hele podium bestrijken, waarbij het spel in een (traditionele) poppenkast slechts een deel vormt van de voorstelling of waarbij de 'poppenkast', zetstukken en decors kunnen worden verplaatst en delen kunnen worden omgeklapt of veranderd. Deze transformaties vormen een onderdeel van het spel.
Zie ook Objectpop, Doepak nr. 117a, Kruimelkrant nr. 19 en Pamflet nr. 120.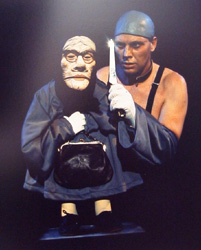 Illustratie: Fragment uit 'Underdog' ,
Stuffed Puppet Theatre.
Foto: Erwin Olaf.
Inventarisnummer: 00675.