This is a Dutch-language ABC of Puppetry ('poppentheater-abc') with nearly five hundred entries. This section
contains an explanation of the terms, expressions, concepts, puppetry techniques, characteristic
puppet theatre figures and important people.

Otepoetje
Jan Klaassen mag graag spotten met zijn vrouw Katrijn. Hij noemt haar een beschimmelde oliebol en vertelt het publiek dat ze de dochter is van Otepoetje ('opoe').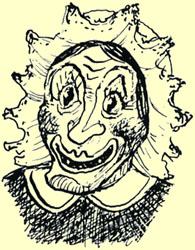 Illustratie: Hetty Paërl, Amsterdam (1995).