This is a Dutch-language ABC of Puppetry ('poppentheater-abc') with nearly five hundred entries. This section
contains an explanation of the terms, expressions, concepts, puppetry techniques, characteristic
puppet theatre figures and important people.

Pantin
Benaming voor een trekpop, stelt vaak een figuur van de commedia dell'arte voor.
Het Franse woord 'pantin' vormde een inspiratiebron voor Wim Kerkhove die van 1981 tot 2000 poppenspeler was op de Dam in Amsterdam. Hij noemde zijn poppentheater 'Pantijn'.
Zie ook Doepak nr. 9 en Pamflet nr. 54.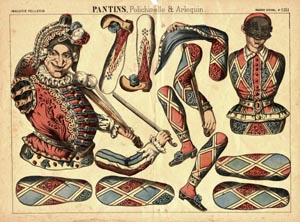 Illustratie: Pantins: Polichinelle & Arlequin (centsprent).
Impressum: Pellerin, Epinal (1800=1899).
Inventarisnummer: 00307.