This is a Dutch-language ABC of Puppetry ('poppentheater-abc') with nearly five hundred entries. This section
contains an explanation of the terms, expressions, concepts, puppetry techniques, characteristic
puppet theatre figures and important people.

Paulus de Boskabouter
Klein, dikbuikig en pijprokend kereltje. Bekend uit kinderboeken, strips, radioprogrammas en animatiefilms. Heeft een bijzondere verhouding met de heks Eucalypta. De verhalen, illustraties, poppenkast- en animatiepoppen en de 'stemmetjes' van de personages zijn (bijna) alle van één persoon, namelijk Jean Dulieu.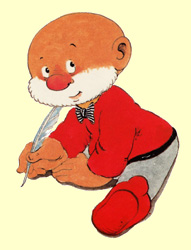 Illustratie: Paulus de Boskabouter (briefkaart).
Illustrator: Jean Dulieu, Soest (1950=1960).
Impressum: Poppenspe(e)lmuseum, Vorchten (1989).