This is a Dutch-language ABC of Puppetry ('poppentheater-abc') with nearly five hundred entries. This section
contains an explanation of the terms, expressions, concepts, puppetry techniques, characteristic
puppet theatre figures and important people.

Pavakathakali
Handpoppenspel uit de Indiase deelstaat Kerala. Het optreden vindt plaats achter een door twee spelers omhooggehouden, kleurrijk doek. Door het blazen op een schelphoorn worden de verschillende personages aangekondigd. Het spel wordt gespeeld door poppenspelers en musici.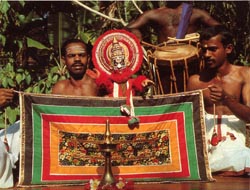 Illustratie uit: Een wereld van poppen.
Impressum: Meulenhoff, Amsterdam (1987).
Stamboeknummer: 71.532.