This is a Dutch-language ABC of Puppetry ('poppentheater-abc') with nearly five hundred entries. This section
contains an explanation of the terms, expressions, concepts, puppetry techniques, characteristic
puppet theatre figures and important people.

Petroesjka
Russische nazaat van de Napolitaanse Pulcinella en evenknie van Jan Klaassen. Heeft behalve Italiaans ook oriŽntaals bloed in de aderen. De gestreepte band van zijn puntmuts is geÔnspireerd op de oosterse tulband.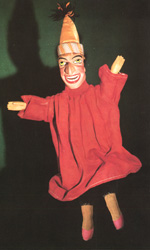 Illustratie uit: Svet Loutek.
Auteurs: Marie a Josef Sechtlovi, Jan MalŪk, J.V. DvorŠk†et al.†
Impressum: Kruh, Hradci KrŠlovť (1978).
Stamboeknummer: 74.200.