This is a Dutch-language ABC of Puppetry ('poppentheater-abc') with nearly five hundred entries. This section
contains an explanation of the terms, expressions, concepts, puppetry techniques, characteristic
puppet theatre figures and important people.

Petruk
Een van de punakawan, de narren van het wayangspel. Zijn hoofd staat op een lange, naar voren gebogen nek. Zijn lijf is lang en hij heeft een uitgezakte buik. Hij is dom en pessimistisch en immer het slachtoffer van de streken van zijn jongere broer Nala Gareng.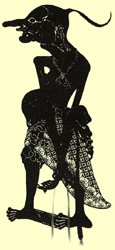 Illustratie uit: Wayang kulit:  "Javaans poppenspel voor massa en elite".
Auteur: Rien Baartmans.
Impressum: Oostelijk Kunstbedrijf, Vorchten (1988).
Stamboeknummer: 72.318.