This is a Dutch-language ABC of Puppetry ('poppentheater-abc') with nearly five hundred entries. This section
contains an explanation of the terms, expressions, concepts, puppetry techniques, characteristic
puppet theatre figures and important people.

Potsenmaker
Grappenmaker. Ook benaming van lieden die in vroegere eeuwen, opvallend en dwaas gekleed, door middel van grappen, grollen, dans en acrobatische toeren publiek trokken
voor de kwakzalver op de kermis.
Zie ook Amuseur public, Harlekijn, Nar, Paljas, Zanni en Pamflet nr. 24.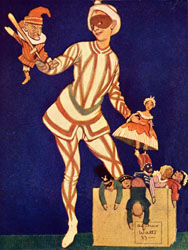 Illustratie uit: The tragedy of Mr. Punch: a fantastic play
in prologue and one act.
Auteurs: Russell Thorndike, Reginald Arkell.
Impressum: Duckworth, London (1923).
Stamboeknummer: 74.494.