This is a Dutch-language ABC of Puppetry ('poppentheater-abc') with nearly five hundred entries. This section
contains an explanation of the terms, expressions, concepts, puppetry techniques, characteristic
puppet theatre figures and important people.

Sandrone
Komische, opschepperige figuur uit de volkspoppenkast van de streek Emilia-Romagna in ItaliŽ. Hij is een boerse, oude man, die graag een slokje drinkt. Zijn neus is dan ook knalrood. In zijn mond ontbreken veel tanden.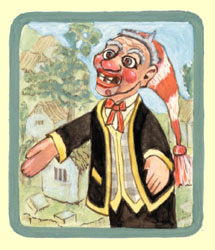 Illustratie uit: Poppenspe(e)lkwartet.
Auteurs: Hetty PaŽrl, Otto van der Mieden.
Impressum:†Oostelijk Kunstbedrijf, Vorchten (1991).
Stamboeknummer: 72.787.