This is a Dutch-language ABC of Puppetry ('poppentheater-abc') with nearly five hundred entries. This section
contains an explanation of the terms, expressions, concepts, puppetry techniques, characteristic
puppet theatre figures and important people.

Schaduwspel
Op een (halftransparant) scherm of een muur wordt door een bepaalde lichtval een schaduwbeeld verkregen van de speler. Hierbij worden een of meerdere lichaamsdelen,
zoals de hand(en), het hoofd of het gehele lichaam uitgelicht.
Zie ook Schimmenspel, Silhouetten en Speelscherm.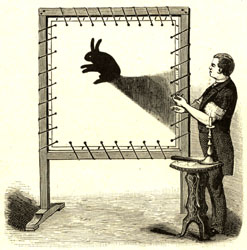 Illustratie uit: Levende hand-schaduwbeelden.
Auteur: Victor Bertrand.
Impressum: Schillemans & Van Belkum, Zutphen (189-?).
Stamboeknummer: 71.187.