This is a Dutch-language ABC of Puppetry ('poppentheater-abc') with nearly five hundred entries. This section
contains an explanation of the terms, expressions, concepts, puppetry techniques, characteristic
puppet theatre figures and important people.

Sokpop
Pop die van een sok gemaakt is. Meestal stelt het een dierfiguur voor. De hand van de speler zit in de pop. De hiel van de sok is het achterhoofd. De voet is de bek van het beest. Een gat in de sok? Een vinger erdoor en het dier steekt zijn tong uit!
Zie ook Kniepop en Voetpop.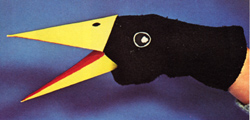 Illustratie uit: Poppenkast-poppen:
zelf maken en ermee spelen.
Auteur: Lothar Kampmann.
Impressum: Cantecleer, De Bilt (1970).
Stamboeknummer: 70.039.