This is a Dutch-language ABC of Puppetry ('poppentheater-abc') with nearly five hundred entries. This section
contains an explanation of the terms, expressions, concepts, puppetry techniques, characteristic
puppet theatre figures and important people.

Speelplank
Platliggende plank aan de onderkant van de theateropening van een poppenkast. Op de speelplank spelen zich de belangrijkste gebeurtenissen af in het handpoppenspel. Het is een plek waarop de figuren zich (quasi) te ruste leggen. In de volkspoppenkast is de speelplank ook heel functioneel voor het opeenstapelen van alle slachtoffers die het loodje hebben gelegd in hun strijd tegen de hoofdpersoon. De plank wordt vaak voorzien van gaten om er attributen, zoals een galgje en een verdwijnkistje, op vast te zetten.
Zie ook Lijsttoneel.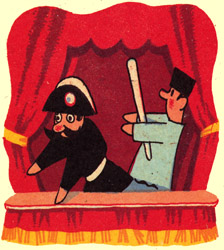 Illustratie: Le guignol (briefkaart).
Impressum: Captain Nemo Editions, Parijs (1995=2000).