This is a Dutch-language ABC of Puppetry ('poppentheater-abc') with nearly five hundred entries. This section
contains an explanation of the terms, expressions, concepts, puppetry techniques, characteristic
puppet theatre figures and important people.

Stock-character
Engels woord voor een vast personage dat een bepaald idee of een bepaalde menselijke eigenschap belichaamt. De personages in het volkspoppenspel zijn vaak de verpersoonlijking van een menselijke (on)deugd: machtsvertoon (diender), bruut geweld (beul), quasi-geleerdheid (dokter), inhaligheid (huisbaas), vraatzucht en beestachtigheid (monster/krokodil) en noem maar op. De poppenspeler identificeert zich dikwijls met de hoofdfiguur. Deze pop wordt vaak tot spreekbuis gemaakt van wat er leeft onder de bevolking.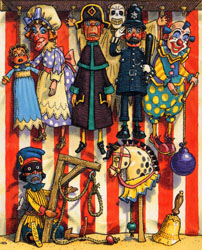 Illustratie: Next Show 12 noon (briefkaart).
Impressum: Royal Mail, Edinburgh (2001).