This is a Dutch-language ABC of Puppetry ('poppentheater-abc') with nearly five hundred entries. This section
contains an explanation of the terms, expressions, concepts, puppetry techniques, characteristic
puppet theatre figures and important people.

Stokpop
Pop die in tegenstelling tot de marionet en de stangpop van onderaf wordt bewogen. De kop zit op een stok, die door de speler omhooggehouden wordt. Om toch enige beweging in het stokstijve lijf te kunnen brengen, zijn de armen aan de buitenkant vaak voorzien van een manipuleerstaafje.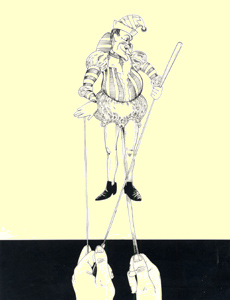 Illustratie uit: Het gezicht van Jan Klaassen:
hij lacht zich een bult.
Auteur: Hetty PaŽrl.
Impressum:†Oostelijk Kunstbedrijf, Vorchten (1985).
Stamboeknummer: 71.458.