This is a Dutch-language ABC of Puppetry ('poppentheater-abc') with nearly five hundred entries. This section
contains an explanation of the terms, expressions, concepts, puppetry techniques, characteristic
puppet theatre figures and important people.

Teu
Ceremoniemeester en grappenmaker in het Vietnamese watermarionettenspel. Een altijd glimlachend, klein mannetje. Hij heeft een dik buikje en draagt een lendendoek en zijn bovenlijf wordt gedeeltelijk bedekt door een jakje.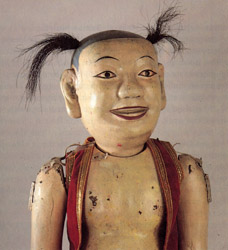 Illustratie uit: Verre vrienden van Jan Klaassen:
poppenspel in Afrika en AziŽ.
Auteur: Elisabeth den Otter.
Impressum:†Tropenmuseum,†Amsterdam (1995).
Stamboeknummer: 74.335.