This is a Dutch-language ABC of Puppetry ('poppentheater-abc') with nearly five hundred entries. This section
contains an explanation of the terms, expressions, concepts, puppetry techniques, characteristic
puppet theatre figures and important people.

Theater
Benaming voor een locatie (arena, schouwburg, openluchttheater, poppentheater) waarbinnen - al dan niet met een uitgekiende belichting - een schouwspel of theaterstuk wordt opgevoerd. Ook een benaming voor vormen van theater, zoals cabaret, dans, mime, musical, opera, show, toneel, variété en poppentheater. Acteurs, figuren, decors en rekwisieten van deze theatervormen hebben een en dezelfde functie: het boeien, vermaken en ontroeren van de toeschouwers.
Zie ook Schijnwerper, Spot en Doepak nrs. 2 en 114a.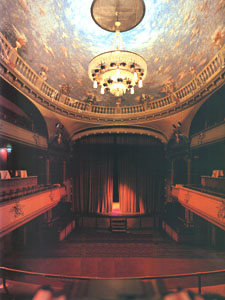 Illustratie uit: Portfolio (tijdschrift).
Foto: Wouter Jansen.
Impressum: F. van Lanschot Bankiers, 's-Hertogenbosch (2002).
Stamboeknummer: 74.639.