This is a Dutch-language ABC of Puppetry ('poppentheater-abc') with nearly five hundred entries. This section
contains an explanation of the terms, expressions, concepts, puppetry techniques, characteristic
puppet theatre figures and important people.

Tholu Bomalatta
Schimmentheater uit Andhra Pradesh, een deelstaat in Zuidwest-India. Het woord betekent 'spel van grote huiden'. De felgekleurde, transparante figuren zijn vaak meer dan 150 cm hoog.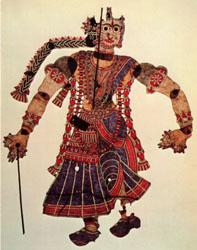 Illustratie uit: Le monde des marionnettes.
Auteur: René Simmen.
Impressum: Silva, Zürich (1972).
Stamboeknummer: 70.560.