This is a Dutch-language ABC of Puppetry ('poppentheater-abc') with nearly five hundred entries. This section
contains an explanation of the terms, expressions, concepts, puppetry techniques, characteristic
puppet theatre figures and important people.

Troubadour
Een rondtrekkende liedjeszanger - vaak van adellijke afkomst - uit de Middeleeuwen, die zichzelf begeleidt met een muziekinstrument. De speelman gaf in zijn liederen en gedichten uitdrukking aan hoofse idealen: een ridderlijke gedragscode waarbij zelfbeheersing en dienstbaarheid aan vrouw, heer en kerk de hoofdrol speelden.
Zie ook Minstreel, Smartlap en Pamflet nr. 30.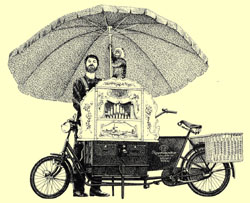 Illustratie: Otto van der Mieden als 'amuseur public'.
Illustrator: Henk Hoekman, Zwolle (1980).