This is a Dutch-language ABC of Puppetry ('poppentheater-abc') with nearly five hundred entries. This section
contains an explanation of the terms, expressions, concepts, puppetry techniques, characteristic
puppet theatre figures and important people.

Tsjechische marionet
Van bovenaf bewogen stangpop. Uit de kop steekt een ijzeren stang die aan de bovenkant is omgebogen tot een handvat. Aan deze handgreep zit weer een dwarshoutje waaraan de draden voor de manipulatie van de benen zijn bevestigd. Deze draden zijn aan het oog onttrokken doordat ze lopen via twee gaten die men verticaal door de kop en door het lijf heeft geboord. Alleen de draden voor kop, rug, armen en handen zijn zichtbaar.
Zie ook Marionet.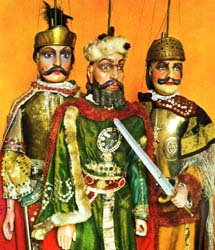 Illustratie uit: Das tschechische Puppentheater.
Auteur: Jindriska Patková.
Impressum: Nationalmuseum, Prag (1975).
Stamboeknummer: 71.819.