This is a Dutch-language ABC of Puppetry ('poppentheater-abc') with nearly five hundred entries. This section
contains an explanation of the terms, expressions, concepts, puppetry techniques, characteristic
puppet theatre figures and important people.

Vliegtuig
Het Griekse Karaghiozis-spel (schimmentheater) kent een grote variatie aan decorstukken: bomen, bloemen (waaronder een tulp), auto's, een (motor)fiets, opgetuigde zeilschepen en de meest uiteenlopende soorten van luchttransportmiddelen, zoals een vliegtuig.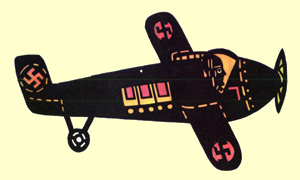 Auteur: A. Yayannos.
Impressum: Ermis, Athene (1976).
Stamboeknummer: 72.707.