This is a Dutch-language ABC of Puppetry ('poppentheater-abc') with nearly five hundred entries. This section
contains an explanation of the terms, expressions, concepts, puppetry techniques, characteristic
puppet theatre figures and important people.

Wayang topeng
De opvoering van een lakon (verhaal) door gemaskerden die dansen, acteren, zingen en reciteren. Een theatervorm uit IndonesiŽ en MaleisiŽ. Topeng betekent 'houten masker'.
Aan de binnenzijde van het masker is op mondhoogte een stukje leer aangebracht.
Door dit tussen de tanden te klemmen, houdt de speler het masker op zijn plaats.
Zie ook Wayang.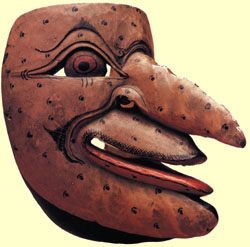 Illustratie uit: Shadow theatre in Java: the puppets,
performances and repertoire.
Auteur: Alit Djajasoebrata.
Impressum: The Pepin Press, Amsterdam (1999).
Stamboeknummer: 73.904.