This is a Dutch-language ABC of Puppetry ('poppentheater-abc') with nearly five hundred entries. This section
contains an explanation of the terms, expressions, concepts, puppetry techniques, characteristic
puppet theatre figures and important people.

Zenna
Alle vrouwelijke figuren uit het Turkse schimmenspel heten Zenna, of het nu om een dansmeisje, een kindermeisje of een koppelaarster gaat. Vaak is Zenna een schaamteloze verleidster, die minnaars verlokt haar huis binnen te gaan om ze er na een tijdje naakt weer uit te gooien.
Zie ook Zenne.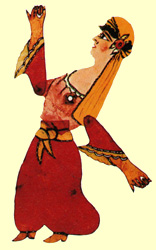 Illustratie uit: Japanse uitgave over het schimmentheater.
Impressum: Japan (1986).
Stamboeknummer: 72.630.