This is a Dutch-language ABC of Puppetry ('poppentheater-abc') with nearly five hundred entries. This section
contains an explanation of the terms, expressions, concepts, puppetry techniques, characteristic
puppet theatre figures and important people.

Zotskolf
De stok van een nar. In het Frans marotte geheten. De narrenstok heeft aan de bovenkant meestal een houten kop die het verkleinde evenbeeld is van de zotte bezitter. Aan de stok van de potsenmaker zitten soms schelletjes.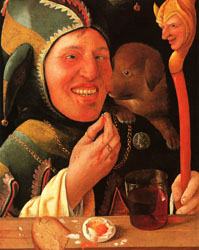 Illustratie uit: Beeld van de andere, vertoog over het zelf:
over wilden en narren, boeren en bedelaars.
Auteur: Paul Vandenbroeck.
Impressum: Min. v.d. Vlaamse Gemeenschap, Antwerpen (1987).
Stamboeknummer: 72.300.